Definition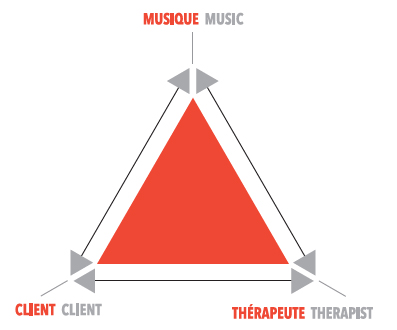 WHAT IS MUSIC THERAPY?
Music therapy is a discipline in which Certified Music Therapists (MTAs) use music purposefully within therapeutic relationships to support development, health, and well-being. Music therapists use music safely and ethically to address human needs within cognitive, communicative, emotional, musical, physical, social, and spiritual domains.
Music therapy is structured around the interaction process between the client, the music and the therapist.
WHO CAN BENEFIT FROM MUSIC THERAPY ?
People of any age, cultural background, ability and/or musical experience may benefit from music therapy. Before beginning, the music therapist conducts a preliminary evaluation to ensure that the service is appropriate, and adapted to the individual. Research shows benefits for those who have :
A neurological condition (muscular dystrophy, cerebral palsy, multiple sclerosis, stroke, cranial cerebral traumas, dysphasia)
A developmental and/or learning disability (attention deficit/hyperactivity, autism spectrum disorder, intellectual disability)
A condition associated with aging (Alzheimer's disease and other dementias, physical limitations)
A terminal illness (cancer, AIDS, degenerative disease)
A mental health challenge (anxiety, depression, schizophrenia)